Thanks to technology, there are now more ways than ever to find sexual partners, communicate with them and even engage in sexual activities. These days, sexting is all the rage. But just what is sexting?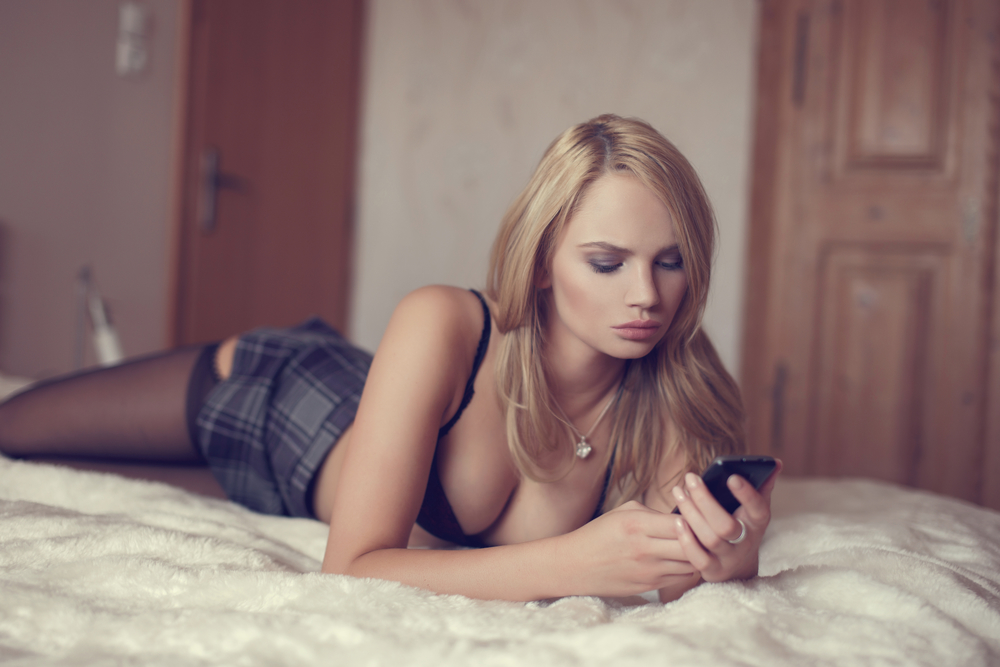 There are a number of things that could be considered sexting:
Sending naughty texts
Sharing pictures or videos (check our our

 

tips for taking a sexy selfie!)
Undressing during live video
Text-based roleplaying
Sexting doesn't just take place within the confines of a text message, either. It can happen via Facebook, Snapchat, WhatApp or through the myriad of other messaging services and apps that exist. Sexting isn't so much about the logistics of how you send it, but what sexting is about is that you're communicating with another person in a way that expresses your sexual desires and potentially acts as masturbation fodder!
In many ways, sexting is just the continuation of cyber sex, which happened before the advent of cell phones that had the capability to send and receive message instantly and to snap photos and record videos.
What is sexting good for? Sexting allows you to send sexy reminders to your man when you're apart during the day, be sexual with your long-distance boyfriend or husband who's on deployment, engage others in sexual play when actual sexual contact isn't possible and more. Sexting can add spice back into your relationship. More on that here.
Want to try sexting? You're not alone. One survey found that 54% of people had sent a naughty video or picture to their significant others. Sexting has become commonplace in modern relationships, especially between millennials. If you're struggling with what to say, these texting games can inspire you.
THE DOS AND DON'T OF SEXTING
Your phone's charged and your partner is waiting. It's time to get sexting. We've got great ideas for sexting in this post and here, too.
Wondering about sexting etiquette? We've got some general advice for what you should and shouldn't do when sending a sext!
Start slow if you're not sure whether the guy on the other end wants to sext at all. Remember that if he doesn't take the bait, he may be oblivious, busy with work, shy or just not sure how to respond.

 

These same rules

 

apply to sexy messages. It doesn't mean he doesn't want to sext or that he's not into you. Slow building also helps to create sexual tension.

 

Read more about that.
Invite him to play along. Ask him what he would do or wants to do. Inquire into his sultry thoughts and

 

fantasies. Sexting gets pretty boring when you're the only one putting in effort. Imagine the two of you are writing a sexy story together.
Don't force it. If he's not into it, maybe you can try again later. If he ignores multiple attempts, he may not be the sexting partner you're looking for. Plenty of people enjoy having sex but just aren't into sexting.
Be explicit – some of the time. Don't be afraid of using words like "cock" or "pussy" when appropriate, but doesn't always have to be explicit. You can allude to sexual activities and use innuendo. Sometimes you might want to keep things more

 

flirty than explicit. Keep him guessing!
Choose your partner wisely. It can be hot to sext with someone whom you barely know, but you also run the risk of doing it with a guy who might show his friends or worse – your friends, family, coworkers or everyone on Facebook. It can be embarrassing to have your saucy messages or photos shared with the world, so be cautious if you suspect someone won't respect your privacy.
Consider your partner's desires and comfort level. If he's shy, a virgin or just not used to sexting, you might want to keep things light and flirty. Avoid sexual subjects that you know are turn offs for your guy. Think about words you use. If he's one that hates the word "moist," then you're better off not using it!
Use other methods of communication, especially if you're in a relationship that's more than casual sex. Don't forget to talk about how your day went, your feelings, what you plan to do after work so on and so forth.

 

This list

 

has plenty of ideas.
Keep it legal. Sexting has become problematic when it involves teenagers who might send sexual photos of themselves. In some locations, this can count as child pornography, which is what sexting is known for in some areas. Obviously, you should only sext with people who are of age and you need to be of age too.
Check who's receiving it. There's nothing more embarrassing than accidentally sending a sexy message to your parents when it was supposed to go to your spouse. Got two people with the same name in your contact list? You better know who's receiving that message!
Take time to plan your message. You can erase or edit before you hit "Send." Snap a few photos before you find the right one. You don't want to make your man wait forever.
Don't be afraid to be funny. When you're in a sexual relationship where you can laugh together, it's definitely a good one. If you can translate that humor to sexting, even better!
SEXTING AND YOUR PRIVACY
It goes without saying that you probably don't want the intimate messages and photos you may be sending shared with others, so you've got to protect your sexts. This might mean taking shots that don't show your face or any identifying marks. Not only does this help protect you in the event that your recipient shares them, but it adds a measure of safety should someone's device fall into the wrong hands or something else happens that you didn't foresee. Of course, your sexts don't need to include photos!
Furthermore, using a service like SnapChat that doesn't save your photos adds another measure of security when you're sexting with your man. There are also a bunch of apps like hidely that helps to protect your privacy when sexting. Check it out here.
Many text messaging apps for your smartphone even include private sections in which you can hide your sexts behind a password. At the very least, a password on your device stops unauthorized users from gaining access to you sexts and any other personal information you might have on your phone.
However, you have to recognize how easily explicit content you've sent to someone else can be shared, and how everything that goes online becomes permanent. Many politicians, celebrities and even average people have suffered through sexting scandals, where their activities were made public. Jennifer Lawrence and Kate Upton were among the victims whose personal photos become available online after their iCloud accounts were hacked in 2014.
It's especially difficult for women who send naughty photos of themselves. This is absolutely your right and you should be able to be a sexual being. But women are judged especially harshly, so you might want to think twice before you become the next Paris, Kim or Pamela. This is true for recording yourself having sex, too!
With that said, many couples still enjoy sexting. It can prepare you for a steamy night of sex with your man once you get together, make it easier when you're missing your man when there's distance between you and encourage you to feel sexy, even if you're just talking to a stranger whom you'll never speak to again. If you've found a way that sexting works for you, keep it up. Just make sure to be careful about it.