Most people have been in a situation where an ex seems a little friendlier than you would expect. Perhaps you have lingering feelings, perhaps not. If you do have feelings, you might be looking for signs that he feels the same and asking yourself "Will he come back to me?".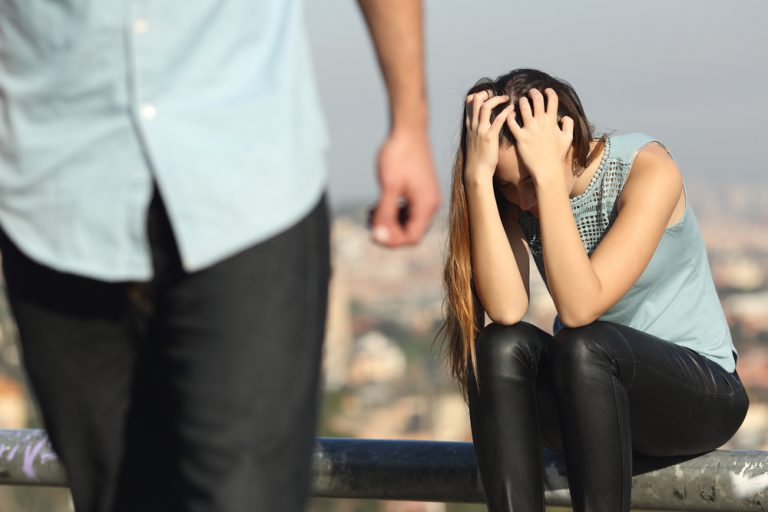 Side Note: I put together this in-depth assesment that will uncover just how good you are at giving oral sex and satisfying your man. It may uncover some uncomfortable truths, or you may discover that you are already a queen at giving blow jobs.
1. HE'S STARTED TALKING TO YOU.
We all know how it goes. We break up. Time passes. We look down on our phones to see a message from an ex.
Perhaps it's the middle of the night, and he's surely drunk. This could mean that with a little alcohol in his system, he can no longer deny that he misses you and wants to come back. But you've got to be careful with this one because it could also just mean that he's bored or horny.
2. HE SPENDS TIME WITH YOU.
It's a good sign he'll come back if he's already in your physical space. He wants to spend time with you. Maybe he's doing flirty little gestures like touching you when you speak – you know what we're talking about! He's physically there, so don't be surprised if he announces that he wants to be emotionally there (again).
If he's acting toward you like he did when he first liked you, it's a good sign he might come back.
3. HE MAKES FUTURE PLANS WITH YOU.
Making future plans shows not just that he's into you now, but that you're part of his future. People generally don't make plans with people unless they want to keep them around. However, you need to be careful that you're not trying to make future plans with him and he's simply humoring you when he knows he's not going to be around in the future…this can be quite tricky to correctly identify.
4. HE WAXES NOSTALGIC.
Signs that he'll come back include thinking about the past, too! If he starts a conversation "Remember when…," he's thinking fondly about the past. Now, we all do that from time to time. But if it seems like he wants you to remember the good times, he could be fishing around to see if you even want him back.
Talking about the past can also be a sign that single life hasn't been as great as he expected, and he preferred the time when you were together.
5. HE FEELS REMORSE.
Sometimes you look back at the past, and you feel regret over the mistakes you made and things you could have done differently. It might be that you broke up with him because he wasn't supportive or called off your wedding if he cheated (discover if he's doomed to cheat again). When you miss someone, you'll find all sorts of reasons to be remorseful, even if you didn't necessarily do anything wrong.
The biggest tell that he feels regret is him telling you. It may be an outright apology for hurting you or not giving you want you needed, or he may just express how he wished he had been a  better partner. This conversation could be his way to see if you've forgiven him and would be interested in giving things another chance.
6. HE'S ON YOUR SOCIAL MEDIA.
In the age of Instagram, Snapchat, and Facebook, it's pretty easy to tell if someone is into you. They're actively sending you messages, liking your posts or photos and commenting. It's not that sly because we all know what it means, but it's an easy way to gauge your interest or start a conversation about getting back together.
7. HE COMMUNICATES WITH YOUR FRIENDS AND FAMILY.
We all know how it goes when you end a longterm relationship. Your ex might get along well with your parents or be close with your brother. It's hard to break the bonds that form when you meet people through them, but it often happens after a breakup.
But if your ex is still close with your family and friends or has recently begun speaking to them again, he could be interested in what you're doing and whether you're seeing anyone. And this is a sign that he may want to come back into your life.
We couldn't write a post about whether he'll come back without a bit of cautious advice. Of course, this won't apply to you if you have absolutely no interest in getting back with your ex. But perhaps you're on the fence about it.
YOU BROKE UP FOR A REASON.
And sometimes that reason isn't good enough to stop you from getting back together. You might have grown, be better communicators or be ready to take responsibility for your role in the relationship. Still, it's easy to promise that things will be better than they were but difficult to make it so.
Don't just look at things with rose-colored glasses if you want your relationship to succeed. Determine whether your issues still exist, if they can be fixed (and how), and whether you're both willing to go the distance this time. You don't want to be exes…again.
IT MIGHT NOT BE ABOUT YOU.
If you ended things with your ex and he lost his home, the person who cooked for him and cleaned for him and other conveniences that came with being in a relationship for you, then you might want to pause if you see the above signs that he will come back. He may be a user or a mooch who cares more about those things than he does you or your relationship.
You've got to read this post to figure out if he's using you.
Another reason he might be making contact and even getting into arguments with you like you're still in a relationship is that he needs the last word or to be 'right.' In those cases, he's more concerned about his pride that your relationship. No one will win, so there's no real reason to even have conversations like those!
IT MAY JUST BE SEX.
Sex is one of those things that conveniently and often frequently happens in relationships. Being single usually means less sex, and he might just want an easy and comfortable lay. Sometimes having sex with your ex is okay, but only if you have rules that you follow (rules for sex with your ex here). It won't work if either of you has feelings, especially if he's using your feelings so you'll still sleep with him.
SOMETIMES YOU NEED TIME
You think he wants to come back.. and that you want this, too. But what if the timing isn't right? You both might need a little time and space to get your head on straight and lives in order. Sometimes you can realize that a relationship can work out, but only if you make some changes, separately, first. Don't rush back into your relationship too soon.
This also means you might need a break and can't even be friends with your ex right away.
BEWARE INDECISION
Breaking up is hard. Sometimes it's just easier to stay where you are, not to move or split your friends. We get it. But sometimes that difficult thing is what you need to do.
So if your ex-boyfriend seems to be doing things that indicate he will come back, it might just be that he's too lazy or afraid to break up and stay that way. Whatever the reason, you deserve someone who chooses you and makes an effort. It might not work out. But you should come to that conclusion after trying everything you can to make it work.
If this guy isn't sure what he wants – and especially if you have to talk him into it – then, you need to determine if it's worth it. Aren't you worth more? Don't you deserve someone who chooses you (now and every day, again and again)?
The truth is, sometimes indecisiveness doesn't mean he's unsure. It just means that stringing you along gives him perks (sex and companionship, among other things) that he won't get when he's single. It's a huge ego boost to him to know that you're still interested.
As soon as he lets you know that he doesn't plan to come back, you will, hopefully, move on. He knows this, so he's not entirely honest with you. Instead, he drops signs (like the ones above) that he wants to come back into your life.
Of course, as we said, you might not be interested in getting back with him and you know you're better off without him. Perhaps there's someone new. The question isn't "Will he come back" but rather..
WHAT WILL YOU DO IF HE DOES COME BACK?
In that situation, you need to consider whether you directly approach the subject of any lingering feelings he has or if you just ignore the signs with the hope that it will go away. Sometimes it does, but sometimes you need to let him know where you stand and make sure you're not the one leading him on.
Whether you need to dodge his feelings or want to rekindle an old romance, you'll need to figure out how he's feeling. Talking to him directly is one way to do that but can be embarrassing if it turns out otherwise, and especially if you do still have feelings for this guy.
But you can't just ask will he come back? You need to look for a few signs and perhaps get some friends to chime in with their observations before you can do anything about it.